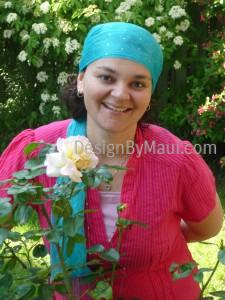 My name is Rebeca and I'm the mother of four wonderful kids and the wife of  an exceptional man. My love for windsurfing in my teenage years gave me the nickname of Maui, since then, my closest friends call me that way.  Even though I'm constantly against the clock, I try my best to find a few moments to enjoy my passion, glass painting. I love taking everyday glass/ ceramics pieces and transform them into personal items.
   I started Design by Maui to help bringing money home ( who doesn't need that, right?!) and because everybody that I've been hosting always complimented my glassware. When I started giving those same people gifts painted by myself, the feedback was amazing!                                      
  Who doesn't need a hostess gift, a wedding present or just a little something to show appreciation to the people we love? and of course, I'm not forgetting Us, those who from time to time just need a gift for ourselves?!

 
   I've lived on four different continents ( yes, I know, what can I say, we are definitely not afraid of moving! ) and although every one of them has very different people, with very different taste, all of  them have one thing in common, the love for having unique things made just for them. 
                                       
   In my website you are gonna find those "custom gifts for unique people"  at affordable prices.
                                      
   Enjoy your visit!!!
   Maui.